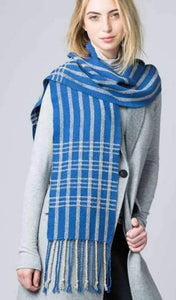 Winter Jasmine Scarf
This weaving kit includes all the yarns needed to weave this Winter Jasmine Scarf that was designed by Jenny Sennott for Long Thread Media.
Tencel and Chenille are alluring yarns for weavers. Tencel has a sheen and drape reminiscent of silk, and chenille's plush texture never looses it's appeal for weavers seeking a luxurious fabric.

This scarf is woven with 8/2 Tencel and Gypsy Chenille Solid.

The finished scarf has a luxurious hand and graceful drape. It's the perfect accessory for special occasions or anytime you want to feel pretty.

Structure: Plain weave with warp floats and inlay.

Equipment needed: Rigid heddle loom; 10" weaving width; 12-dent heddle; 2 shuttles; 2 bobbins; 1 pick-up stick; 2 small stick shuttles (optional).

Finished size: 8 1/2 x 70" with 6" fringe.

You will need to purchase Handwoven Loom Theory: Rigid-Heddle Scarf Collection from Long Thread Media for the instructions.

Note:  This kit includes all yarns needed to weave this scarf.  The pattern can be found in the Handwoven issue noted above.  You will need to purchase this magazine if you don't already own a copy.