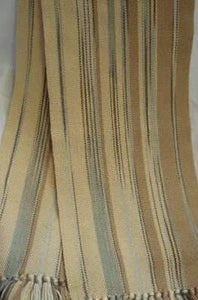 Beautiful Bamboo Scarves Pattern
DIGITAL DOWNLOAD
These may be the easiest and surely the most beautiful scarves you've ever woven!

Our Bambu yarns are made from 100% bamboo, a renewable resource grown without pesticides or fertilizers and processed much like rayon yarns.

You're going to love the smooth, rayon-like texture of Bamboo as well as the fantastic drape! It makes the most beautiful and silky scarves!

It's so easy to warp and super easy to weave in plain weave (on any two or more harness loom!) using just one shuttle. 
We've designed these scarves so that the interest in the variegated and solid yarns do all the design work for you.  It's just that easy.

Yarns:  Bambu 7 Solid and Bambu 7 Variegated for warp and Bambu 12 for weft.

Equipment needed: 2-shaft (rigid heddle) or 4 shaft loom; 8" weaving width; 12 dent-reed (2 ends/dent); one shuttle

Finished size: two scarves 5.5" x 72" plus fringe

They make such great gifts that we've designed this pattern so you can weave two different color scarves on one warp!  

This project is available as a kit from Cotton Clouds.

Designed by Robin Lynde